Biafra
Garba reveals what will to Nnamdi kanu if Nigeria conducts referendum
A former Nigerian Presidential candidate, Adamu Garba, has reacted to the comment on Amotekun made by the leader of the Indigenous People of Biafra (IPOB), Nnamdi Kanu, telling him that he will lose if he runs a referendum in the South East today.
The IPOB leader said Amotekun has been politicalised as he reacted to the statement made by Governor Bala Mohammed of Bauchi State which justified why herdsmen carry guns.
Referring to killer herdsmen as the 4th most dangerous terror group in the world, Kanu said it is a shame Amotekun would have to face these terrorists who have AK-47 with Pump Action/Dane guns. "It's time for an outfit with the pedigree like Odua People's Congress (OPC) to take over," Kanu added.
In reaction to Kanu's comment on Amotekun, Adamu Garba referred to him as an advocate of hate speech before accusing him of insulting the Yorubas. Speaking further Adamu Garba added that Kanu would lose if he was given an opportunity to run a referendum in the South East.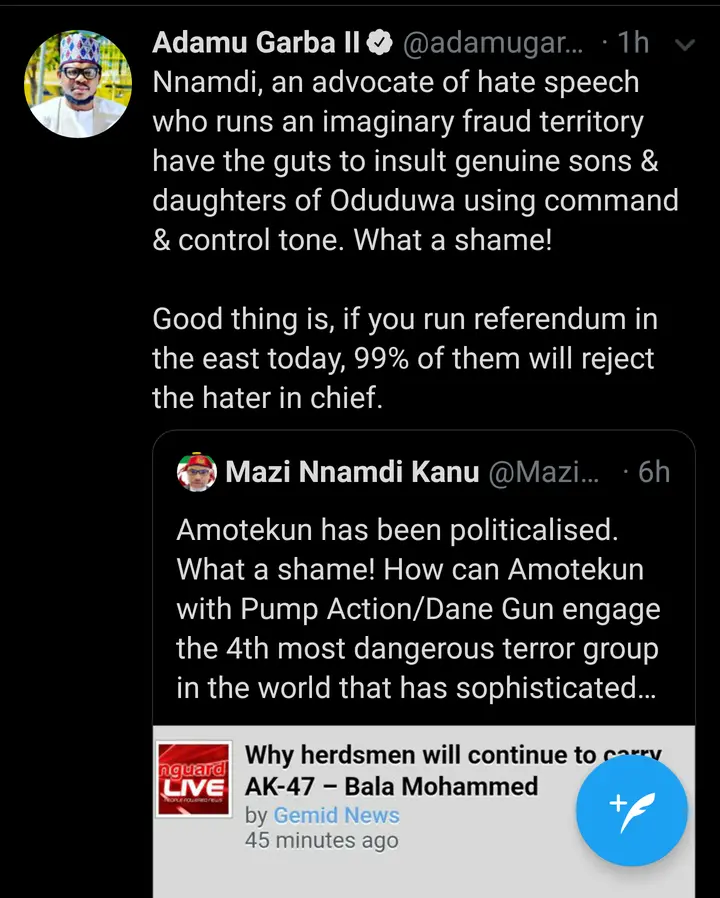 In reaction to Adamu's comment, @Martins_ukeje, a twitter user said: "Target missed. Try another method Adamu. This one didn't work."
Another twitter user, @best_forward, said he didn't see any insult directed towards the Yorubas in Nnamdi Kanu's statement and therefore asked Adamu Garba this: "Where is the insults please?"